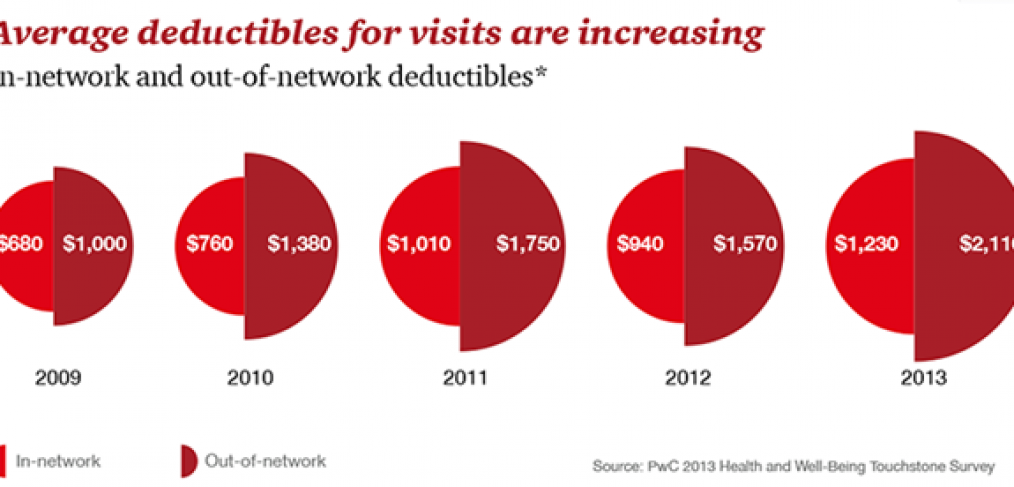 February 11, 2015
by yempl
One of the immediate consequences of the Affordable Care Act – popularly called Obama Care – is that it brings with it a rapid spread of high deductibles among insurance plans available on the Health Care Exchanges. Where many consumers once had access to insurance plans with affordable deductibles, under Obama Care these rates have skyrocketed. Under the Silver Plan, the most commonly selected insurance plan, the annual deductible is about $3,000. And under the Bronze Plan – touted as the most affordable insurance plan under Obama Care, the deductible is a whopping $5,000. And these rates are already scheduled to increase in 2015. At these rates, it can take dozens of visits to the doctor to meet these deductibles.
Rapid Spread of High Deductibles
Essentially, this means that consumers – and in particular, low-income consumers who cannot afford the high premiums of the Gold Plan – will be forced to pay thousands of dollars out of pocket for doctor appointments, screening tests and prescription medication before they reach their deductible. Estimates indicate that as many as three in four American families are living paycheck-to-paycheck. These families are more likely to opt for insurance plans like the Bronze or Silver plan under Obama Care because of their lower monthly premiums. But first-time insurance buyers in this group will undoubtedly have difficulty affording their high deductibles.
20% Did Not Make Their First Premium Payment
Because of these high deductibles, many consumers are looking for options that can save them money on costly medical procedures and reduce the amount they have to spend on office visits.  And about twenty percent of those who signed up for Obama Care did not make their first premium payment. After ninety days of nonpayment, those consumers lose their coverage – an option many are considering. They may determine that it is more affordable for them to pay the $75 annual fine and pay for doctor visits and procedures out of pocket, rather than pay premiums that are saddled with high deductibles.
Affordable Rates for Procedures
Consumers who choose this option will undoubtedly want to shop for the most affordable rates for procedures. Yempl.com allows patients to find the most suitable and inexpensive rates for procedures they need. With Yempl's procedure and service search engine, patients can find and compare doctors in their area and quickly determine which ones provide the services they need at a rate they can afford. Doctors' individual rates are conveniently displayed in a results page, along with their ratings on various health care websites.
With this powerful tool at their disposal, patients are empowered to make the right health care decisions and find providers that are best for their budget and patient needs. They won't have to spend more than they can afford on doctor visits and procedures they need. Patients can save thousands of dollars on health care costs and work with reliable, trusted providers.